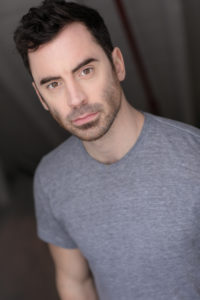 We are pleased to welcome back Nick Ferrucci to the Third Rail stage as Elias in Annie Baker's  John, opening November 30th, 2018.
Nick was last seen in Third Rail's production of The Angry Brigade. Other recent credits include Luna Gale at CoHo Productions, Astoria: Parts 1 and 2, JAW Fest at The Armory, and Peter and the Starcatcher at Portland Playhouse. 
Other credits include work with Oregon Shakespeare Festival, Maples Repertory Theatre, Sierra Repertory Theatre, Commonweal Theatre Company, Heritage Theatre Festival and Bright Star Touring Theatre.
Nick holds an MFA in Acting from Northern Illinois University, and a BFA in Theatre from Southern Oregon University. He has studied with the Moscow Art Theatre in Russia and The Second City in Chicago.
Q & A with Nick Ferrucci 
TR: What excites you about John? 
NF: I've always wanted to work on an Annie Baker play and I am truly honored and thrilled to be doing it with this particular group of artists.
TR: What is the strangest or most unique place you've ever stayed while traveling? 
NF:The strangest place I've ever stayed while traveling has to be on the floor of an apartment of a guy named Sloth in Chattanooga, Tennessee. It's a long story.
TR: What was one of your favorite childhood toys or tchochkes? 
NF: I loved the movie Top Gun growing up and I had a toy F-14 Fighter Jet I remember always playing with.
TR: How does working on an Annie Baker play differ from approaching the work of other playwrights? 
NF: This is my first time working on an Annie Baker play, so I don't think I'll be able to tell you until after the work is over. However, recently I've been thinking how the word "acting" is such an unfortunate and misleading word for what we do, and that possibly Annie Baker is asking us to just live, be interested in each other, and curious about what we don't know.