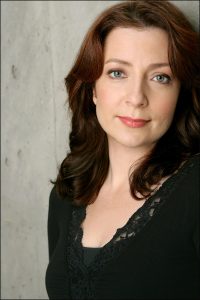 Maureen Porter, Third Rail's Artistic/Managing Director, is back onstage in the ensemble of Revolt. She Said. Revolt Again.  Maureen is a Core Company Member who was most recently seen as Claire in The Events. Other roles include Aphra Behn in Or, Maureen in The Beauty Queen of Leenane, Belinda in Noises Off,  Marian in Sweet & Sad and That Hopey Changey Thing, Lisa in The Wonderful World of Dissocia, Pam in The Gray Sisters, Eleanor in Dead Funny, and Mom in Number Three. Other local credits include Erica in Bright Half Life with Profile Theatre; Dark Ahab in Or, The Whale with Portland Experimental Theatre Ensemble, Kate in The Taming of the Shrew at Portland Shakespeare Project, Elise in Crooked at CoHo Theatre, Estelle in No Exit and Emma in Betrayal at Imago Theatre. New York credits include Isabella the Pirate Queen in Wet at the SPF New Works Festival, Lady Sneerwell in School for Scandal, Cleopatra in Antony and Cleopatra, Laura Lucretia in the The Feign'd Courtesans with The Queen's Company, and Celia in As You Like It with the National Shakespeare Company.
Q & A with Maureen Porter
TR: What excites you about Revolt. She Said. Revolt Again.?
AV: Oh my god, what doesn't excite me? It is like nothing else–it's one of those plays that you won't see anyplace else. It does this incredible, exciting, completely provocative, funny, dark, poignant thing, and the way in which Alice Birch uses form, and deconstructs form and language, and challenges language around gender… I'm incredibly excited that Rebecca Lingafelter is directing it. I am incredibly excited that Jenny Ampersand is scenic design and costume design. Mark Valadez and Jen Lin round out the design team with Rosie Lambert doing props–there could not be a better team! And the audience is going to be blown away by the way in which the design operates. They are going to  be in the space in a way that they have never before. The cast is incredible. It's going to be great to work with that group of people. And I love that the fundamental thing is what Alice Birch says in the notes: "Most of all this play should not be well behaved."
TR: What are some titles, identities or names that you claim with pride?
AV: Woman. Sister. Daughter. Tom-Boy. Bi-sexual. Leader. Collaborator. Maker. Actor. Co-creator. Confidant. Friend. Strong. Wise-woman. Humble. Warrior.