A psychedelic allegory from a world where spirits stalk their hosts and witches grant wishes. A mother's investigation into the mysterious disappearance of her daughter illuminates the shadows of her past…Haunted by her fears… running out of time… Can she reclaim her place in the ever growing and perishing beauty of life? Can she pull herself from a web of anger and guilt, through the "Secret of the Spider"?
Performing as Third Rail's Wild Card, February 16, 17, 18 at 7:30 pm and February 19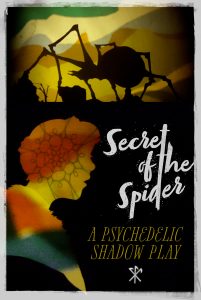 at 2pm
What is Night Shade?
Night Shade is a group of Portland-based artists revolutionizing the ancient art of shadow puppetry by using light to manipulate depth and space. They blend hand-held lights, masks, puppets, composed music, sound-effects, and experimental storytelling into a bewitching form of cinematic theater that flows like film. This group has performed across the US at puppetry and art festivals, galleries, and even gutted bowling alleys & pubs. In 2009 the group performed their full-length epic shadow play, "Night Shade", which contained over 700 intricate cut-outs, for a sold-out run at Disjecta. They rocked Disjecta again in 2012 with the live music video battle "Japanther vs. Night Shade: The Revenge". Last year, "The Horror of Night Shade" lit up the 2016 Portland Winter Light Festival & an early incarnation of the "Secret of the Spider" was recently seen at the 3rd New Orleans International Puppetry Festival. Come see this debut at Third Rail!
"The realm of shadows is obviously Night Shade's forte." – Willamette Week
For more information on Night Shade go to: www.nightshadedynasty.blogspot.com