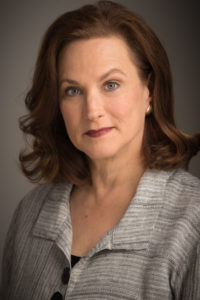 We are pleased to welcome Diane Kondrat back to the Third Rail stage as the mysterious Genevieve in Annie Baker's  John, opening November 30th, 2018. Diane was most recently seen at Third Rail's production of The New Electric Ballroom.
Since moving to Portland in 2013, Kondrat has appeared with Third Rail, Profile Theatre, Shaking the Tree, Oregon Children's Theatre and the sketch comedy monster Spectravagasm.  Her history includes 18 years as the head of an interactive theatre company that brought productions to prisons and universities, and 20 years as the creative impulse behind Oasis Productions, a stage company featuring small cast shows with great roles for women.  Recently she appeared in Coho's Radiant Vermin and was in the fight cage of Girl in the Red Corner at defunkt theatre.  In spring 2018 she was honored to play Tracey in Lynn Nottage's Pulitzer Prize winner Sweat at the Phoenix Theatre, and this fall she co-directed the inmates at Two Rivers in their production of Macbeth. Please consider a visit to www.dianekondrat.com.
Q & A with Diane Kondrat 
TR: What is the strangest or most unique place you've ever stayed while traveling? 
NF: Actors sometimes stay in strange places while working. Once I was in a dark house with lots and lots and lots of porcelain dolls and antique laces framed in velvets. Also, it smelled so much like Febreeze. I hate Febreeze. There were, however, goats across the street, and that helped make up for the weirdness.
TR: What was one of your favorite childhood toys or tchochkes? 
NF: My favorite things as a child were my ceramic animals. Dogs, horses, a few cats, the errant turtle. I made families, towns, tunnels out of up-ended books. So many hours with my fragile friends — I was always happy to be left alone with them. I still have a few.