We are thrilled to introduce Anya Pearson, making her Third Rail debut as Seneca in Men on Boats this March.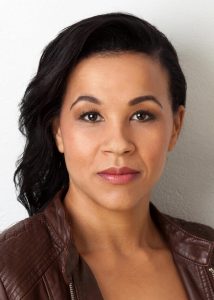 Anya is an accomplished actress, playwright, poet, producer, and activist. Anya is the inaugural winner of the prestigious $10,000 Voice is a Muscle Grant from the Corporeal Voices Foundation run by best-selling author Lidia Yuknavitch. She is currently working on the development of her choreopoem, Made to Dance in Burning Buildings, which is a fusion of poetry, theatre, and violent and visceral contemporary dance, and is also in the process of publishing her first collection of poetry. Favorite roles include Eve in Come to the Table, Mike Pence for Shaking the Tree, Nikki in Hands Up for August Wilson's Red Door Project, Rebecca in The Call for Profile Theatre, and Antipholus/Adriana/Bobby (and others) in Bomb-itty of Errors for Post Five Theatre. She is a graduate of the prestigious two-year program at the William Esper Studio in New York City and the writing program at Marylhurst University. Her best production is truly her 5 ½-year-old daughter Aidan.
Q & A with Anya Pearson
TR: What excites you about Men On Boats?
AP: I am excited about Men On Boats because I am excited by women reclaiming the male narrative. In this country, at this time, it is both a dangerous and a thrilling proposition to be a woman. Especially a strong woman. With all of the information that is coming to light about all of the sexual harassment, assault and general bad behavior of men that has been swept under the rug for generations, it is amazing. liberating, and thrilling to be a part of a story that is female-centric, female-driven, all female in cast and direction, and is intentionally subverting the patriarchy.
TR: What has been the greatest adventure of your life so far?
AP: The greatest adventure of my life has been motherhood. It is full of surprises, laughter, challenges, exhaustion, tears, frustration, and the most profound and deep joy and love I have ever experienced.