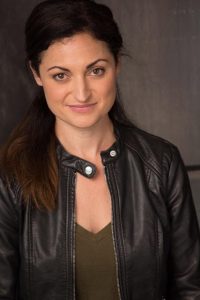 We are thrilled to welcome Dré Slaman as Hawkins in Men On Boats, running March 2nd through March 24th, 2018.
Dré earned her MFA in Acting at Northern Illinois University where she studied the Meisner Technique under master teacher Kathryn Gately. She has also studied at the Moscow Art Theatre, the William Esper Acting Studio (NYC) and received her BA in Theatre Arts at University of Pacific. Dré has been most recently been seen in Profile Theatre's The Happiest Song Plays Last.  A few of Dré's other Theatre Credits include: Jaffa's Gate, The Stinky Cheese Man, Nine Parts of Desire, The Arab-Israeli Cookbook, Albee's Everything in The Garden, DavidEdgar's Pentecost, and Hair.  Dré's on-camera credits include GRIMM, MEDIUM, and others. She owns and operates local company Farm to Fit and is on the Board of Directors of the Portland Area Theatre Alliance.
Q & A with Dré Slaman 
DS: The river, naturally. It's like the 11th character of the play and its our job to embody it and bring it to life.  That is exciting in and of itself. And I love the idea of telling this story from a different lens, examining what happens to the people and the history when we tell the story from a different perspective. How does this change what we think we know? How does it not change anything at all?  And in the end, are relationships and circumstances all the same regardless of who's telling it, because, ultimately, we are human? I don't have the answers, but I know that we are pushing boundaries and I am discovering something new about it every day.  That is thrilling.
TR: What are some of your favorite places to go adventuring in Oregon?
DS: To be honest, I am a little bit of a city rat so my definition of adventuring is hiking through Forest Park! Ha! Just kidding. But moving to the PNW eight years ago has indeed expanded my horizons beyond tall buildings and dense streets. I have enjoyed exploring all that Bend and Mt. Hood have to offer, among others.
TR: What has been the greatest adventure of your life so far?
DS: The dictionary defines adventure as "an unusual and exciting, typically hazardous, experience or activity." So that would be raising my daughter, Pierce, who is three years old. A close second is owning and operating my company, Farm to Fit. Both have been ventures into the great unknown, equally terrifying and thrilling, unpredictable and exhilarating, with as many joys as struggles. Although, the three-year-old tends to be more hazardous… luckily she's cute!