Our next show, Revolt. She Said. Revolt Again., is an in-your-face firebomb of female power. In honor of this explosive new play, we're featuring extraordinary women each week in our #womancrushwednesday series.  This week, we are honored to celebrate Ellen Fader: extraordinary librarian, patron of the arts, and all-around amazing person!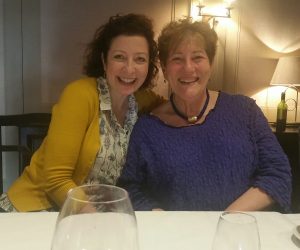 In the words of a close friend, Ellen "blew into Oregon for a job at the Oregon State Library (OSL) in the spring of 1993. Her first day on the job was the same day as the Scotts Mills earthquake, the "Spring Break Quake". Oregon hasn't been the same since." In her role as Children's Services Consultation at OSL, Ellen helped to develop excellence in library services for children throughout the state. She went on to serve as the Children's Services Director for Multnomah County Library, where she led with passion, vision and generosity.
Ellen's contributions to library services have been recognized at the state and national level. In 2014, she received the Oregon Book Award's Walt Morey Young Reader's Literary Legacy award She also recieved a Distinguished Service Award from the Association for Library Service to Children in 2017. In the press release for this award, the Association described Ellen as "the librarian that we all want to grow up to become."
Outside of her work in library services, Ellen is a strong advocate for equity, the environment and local arts organizations. She is an avid birder, hiker and world traveler. As her friend Barbara puts it, "[s]he's a whirlwind of enthusiasm, intellect, and thoughtful generosity."
We are honored to call Ellen part of the Third Rail Family!