---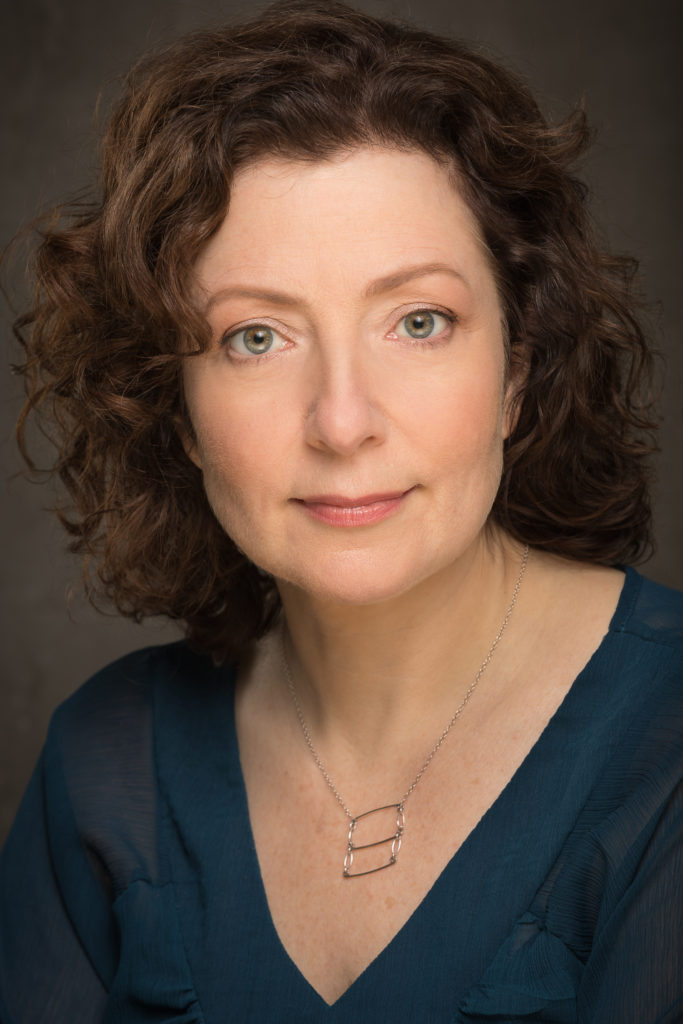 Maureen Porter will play Bana/Laura in Guillermo Calderón's Kiss, opening March 15th, 2019.
Maureen is a Core Company Member of Third Rail Repertory Theatre, where roles include Ensemble in Revolt. She said. Revolt again., Claire in The Events, Aphra Behn in Or, Maureen in The Beauty Queen of Leenane, Belinda in Noises Off, Marian in Sweet & Sad and That Hopey Changey Thing, Lisa in The Wonderful World of Dissocia, Pam in The Gray Sisters, Eleanor in Dead Funny, and Mom in Number Three. Other local credits include Erica in Bright Half Life with Profile Theatre; Dark Ahab in Or, The Whale with Portland Experimental Theatre Ensemble, Kate in The Taming of the Shrew at Portland Shakespeare Project, Elise in Crooked at CoHo Theatre, Estelle in No Exit and Emma in Betrayal at Imago Theatre. New York credits include Isabella the Pirate Queen in Wet at the SPF New Works Festival, Lady Sneerwell in School for Scandal, Cleopatra in Antony and Cleopatra, Laura Lucretia in the The Feign'd Courtesans with The Queen's Company, and Celia in As You Like It with the National Shakespeare Company.

---
Q&A with Maureen Porter:
TR: What excites you about Kiss? 
MP: I love a night at the theatre when I don't see what's coming and Kiss has that quality. It is funny and surprising as well as substantive  I love when I am in an audience and something happens that makes my heart beat faster, and my brain engage to figure it out, and my breath quicken. I like when a play stays ahead of me. Kiss is that kind of play. It is very exciting to be inside the work. 
TR: Kiss draws inspiration from Soap Opera, which some might describe as a "guilty pleasure". Do you have a "guilty pleasure" genre of theatre, film, television or literature?

MP:   I don't know about guilty pleasures. I can't help myself, I do love 80s teenage angst, Brat Pack, romcoms when the mood hits me. Oh, I guess that I do also love really cheesy love songs from time to time. I mean, not always. But let's be honest. Sometimes it feels really good to sing Against All Odds or Endless Love or Total Eclipse of the Heart really loud at the top of your lungs. Whitesnake? Hall and Oates? Anyone? You won't publish this, right? 
TR: How do you view the role of theatre in political discourse, or theatre as political action?
MP:  I believe that theatre is many things, to many people. It is not monolithic. Fundamentally it is – as a concentrated expression of our culture, our times, our history – a way to enact and engage in a kind of civil discourse and communal experience. In that way it might always be political to some degree. It can help us to work toward the best aspirations of our democratic ideals. But I don't think that is it's only role. The lens can be political, sociological, psychological, satirical, humanistic…the list goes on. It must defy rigid and inflexible categorization and be responsive and in dialogue with the world in which it is made.  As Julian Beck of the Living Theatre said, "You must enter the theatre through the world." 

TR: What do you hope audiences will take away from Kiss? 
MP:  I hope audiences will be moved in a way that is full and rich. That they will laugh and wonder and learn along with us. That an imprint of this story, and our shared experience of it, will last with them in a way that might even transform us all. I want them to take away things to think about and talk about and relish and enjoy. Things to ponder. I would love them to relive some of the moments in their memories days after they see the performance.I hope they will consider new perspectives.