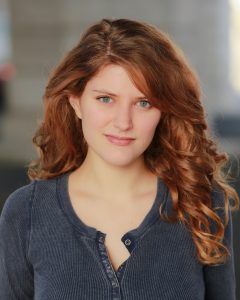 We are thrilled to welcome Jessica Hillenbrand, alumna of the 2013/14 Third Rail Mentorship Program, in her mainstage debut as Hall in Men On Boats. 
Born and raised in Portland, Jessica holds a BA in Drama from the University of Portland. You may have recently seen her underneath a great deal of eyeliner as Maya in Portland Playhouse's fall reading of No Candy, or as Val in That Pretty Pretty with Defunkt Theatre. Other credits include Stupid Kids (part of Fuse Theatre Ensemble's OUTwright Festival) and Comedy of Errors (Post5), Love Labour's Lost (Portland Actors Ensemble), and bobrauschenbergamerica (Third Rail Mentorship Company).
Q & A with Jessica Hillenbrand 
TR: What are some of your favorite places to go adventuring in Oregon?
JH: My favorite thing about living in Oregon is that it's so easy to escape to just about any adventuring terrain you could want. When I have the time, I love to go center myself at the beach or spend a day hiking around waterfalls in the Gorge. Probably dearest to my heart are the trails around Forest Park, which my trusty Star Wars water bottle and I have been hiking almost weekly over the past year. Thanks to Wildwood Trail I can squeeze in an adventure whenever the mood strikes and keep the wanderlust at a manageable simmer without even having to leave the city.