'Twas just before Christmas and throughout Third Rail Rep
Everyone was excited about Irma Vep
The place was abuzz like bees in a hive
Because of the plays with National Theater Live
With great plays and great gifts for the theatre lover
For the holidays Third Rail Rep's got you covered
Tis the season, and Third Rail has everything you need to celebrate the holidays:

A little holiday entertainment for you, your family, and your friends with some great Portland live theatre and the hilarious quick-change romp The Mystery of Irma Vep, December 5 – January 10.
---
Exceptional food with a $10 discount at the fabulous Nel Centro restaurant (just short walk from the Winningstad Theatre), where you'll find delicious starters and salads, homemade pastas, fantastic entrees and desserts, and the best French fries in the city. (Coupon provided by Third Rail with all Irma Vep ticket purchases.)
---
The perfect gift for everyone on your list: Tickets to Third Rail Main Stage Plays and National Theatre Live single-show tickets as well as 6-ticket punch cards (great for stocking stuffers).
---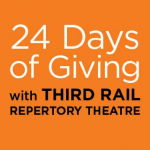 And for your end-of-year giving, check out Third Rail's 24 Days of Giving Campaign.