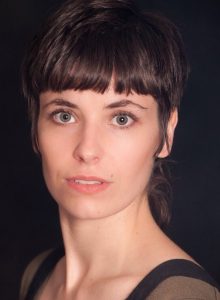 We are thrilled to announce that Gwendolyn Duffy will portray Bradley in Men On Boats, opening March 2nd, 2018.
Gwendolyn was raised here in Portland. She studied dance and theatre from a young age and began her professional performance career in 2005 as a member of The Suzanne Farrell Ballet in Washington, D.C. She is a graduate of Portland Actors Conservatory, where she performed as The Stepdaughter in Six Characters in Search of an Author and Benvolio in Romeo & Juliet. Other Portland theatre credits include portraying the title character in Imago Theatre's The Lady Aoi, Ensemble in Imago's Savage Love, Movement Artist in Portland Opera's The Little Match Girl Passion, and Rachel in CoHo Production's The How and The Why (opposite TR company member Karen Trumbo).
Q & A with Gwendolyn Duffy  
GD: What excites me the most is the opportunity that this production gives female theatre artists! To explore and dive into a world that would usually be off limits to us. To be a part of such a large ensemble cast of women, as we dig in and discover the humanity of these different characters. And then to share the story of these characters, who were real people, as we go on their wild adventure. It's a hell of a ride, the odds are stacked against us and the stakes are very high. I think it's going to be really empowering and hopeful to see a group of women coming together to survive.
TR: What has been the greatest adventure of your life so far?
GD: I'm a bit of a bird nerd and I've had some excellent birding adventures in Oregon, Washington, Northern California and Montana. But the first time I went exploring the wilds of the Nevada desert with my husband was the greatest by far! I was blown away by the vast expanse of sky and earth. It felt like a whole new world to me; different plants, animals and life everywhere. Compared to the lush growth of the forests that I am familiar with, there is a resilience to life in the desert. It clings on despite the harsh environment and I was instantly taken with that.